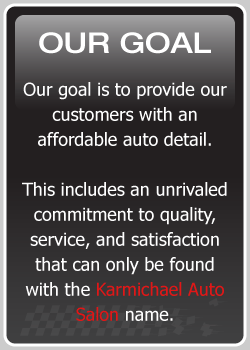 HISTORY OF KARMICHAEL AUTO SALON
Karmichael Auto Salon has been doing business in the Puget Sound Area since 1988. We are one of the largest retail auto detail shops in the Northwest and are proud to have two convenient locations in Bellevue and Mukilteo, Washington to take care of all your car wash and auto detail needs.
We pride ourselves on delivering a high-quality auto detailing experience with the utmost attention to detail. We offer several car wash and detail packages to fit each individual customer's needs and expectations, while maintaining a competitive balance between quality and price. Just because another shop charges more, doesn't mean they provide a better detail experience.  Some of our detailers have been with us since the beginning and know exactly what's expected in delivering a "Karmichael Detail" every time.
Karmichael Auto Salon opened its doors in 1988 in Lynnwood, Washington, in a small two-bay shop just off of Highway 99. The Lynnwood location was open for nine years and had a successful run servicing many of the local dealerships in Lynnwood and Everett.
In the mid 90's, Karmichael Auto Salon moved to the Eastside and partnered with the Chaplin's automotive group and their highly-successful Chaplin's Volkswagen and Subaru dealership located off of I-90 at Eastgate. The Bellevue location continues to provide the Eastside and its surrounding communities with an affordable auto detail experience, without sacrificing the quality that one would expect.  We are proud to detail anything from a classic VW Beatle, to a Ferrari or Bentley.  You bring it in, and we'll clean it!
The Karmichael Auto Salon opened its doors in Mukilteo in December of 2001. The Mukilteo location is located on the Mukilteo Speedway next to Harbour Pointe Auto Bath, a self-serve car wash that serves Mukilteo and its surrounding areas.  Our Mukilteo location is equipped to detail vehicles of all shapes and sizes. We also offer full boat, RV, and motorhome detailing at this location. We've even been known to detail an airplane every now-and-again.
---